Home
>
Uncategorized
> Content Curation Tool Storination Invites New Users For Private Beta
Content Curation Tool Storination Invites New Users For Private Beta
See on Scoop.it – Business Attractitude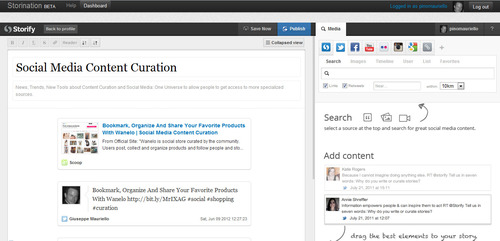 Giuseppe Mauriello: Private beta Storination is content curation tool that provides the first community-oriented platform based on the Storify publishing tool allowing journalists or any user to collate a group of Storify stories around a topic and allows others to add to the storyboard.
Yesterday I received an invitation code as beta tester. I attached a screenshot about my dashboard: I am testing and editing it with my tweets and some sources from this my topic on Scoop.it.
From official website:
"Storination lets you create online communities called a Nation. It's a space where you and other people add into a storyboard social stories. Customize your Nation like a blog by uploading a logo, and a large cover. Now, you can publish a Storify story by collecting photos, video, tweets, embedding URL… or If you prefer, just import social stories directly from Storify to your Nation.
A storyboard is an online set of Storify stories curated by you. After opening your Nation, Storination allows you to compile into a storyboard your stories and other people's stories created in Storify. It's very easy to organize your storyboard by adding or removing stories. With the 'favorite story' feature you highlight stories easily…"
Try out it and/or request an invite here: http://storination.com
See on storination.com