Yahoo Launches Marketing Dashboard For Small Business
See on Scoop.it – Business Attractitude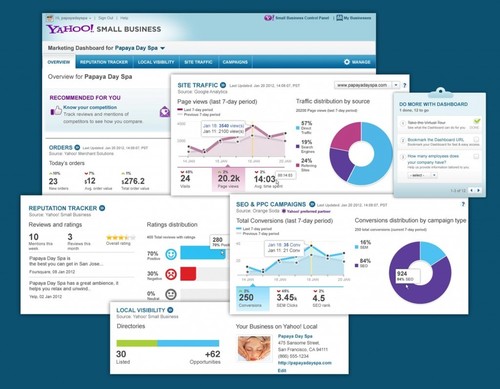 Giuseppe Mauriello: Yahoo Small Business hopes to grow by offering small businesses an integrated marketing dashboard to manage and expand their digital marketing efforts. The Yahoo Marketing Dashboard provides a consolidated view of a business's marketing results and reputation.
It is a free solution that helps you discover new marketing opportunities and determine what works best, so you can grow your business.
Here are key features:
1) Business listings:
Find out how many search engines and directories include your business and discover new listing opportunities you may be missing.
2) Online business reputation:
Learn what customers are saying about you across the Web, so you can be responsive to their needs and provide better customer service.
3) Web site traffic:
Discover how many people are visiting your site and where they are coming from by viewing Yahoo! Web Hosting, Yahoo! Merchant Solutions, or Google Analytics site traffic reports.
4) Marketing campaigns:
Track key metrics from email marketing, search engine optimization (SEO), and pay-per-click (PPC) campaigns, so you know what is working.
5) Online sales:
Know how your daily sales are doing with order and revenue reporting from your Yahoo! Merchant Solutions online store.
6) Marketing ideas – Learn about new marketing approaches and leading marketing service providers who can help your business grow.
The Marketing Dashboard is specifically designed for small business owners, not marketing experts.
Content is presented through colorful charts and graphs so you can quickly and easily get the information you need to grow your business.
Short how-to videos and a practical "to-do" list help guide you as you use the Marketing Dashboard.
Try out it here: http://smallbusiness.yahoo.com/marketing-dashboard
See on smallbusiness.yahoo.com